NFL: Sky Sports rank the five unbeaten teams in the league
With a joint-record five teams still unbeaten in the NFL we rank them in order - but do you agree?
Last Updated: 04/10/13 2:47pm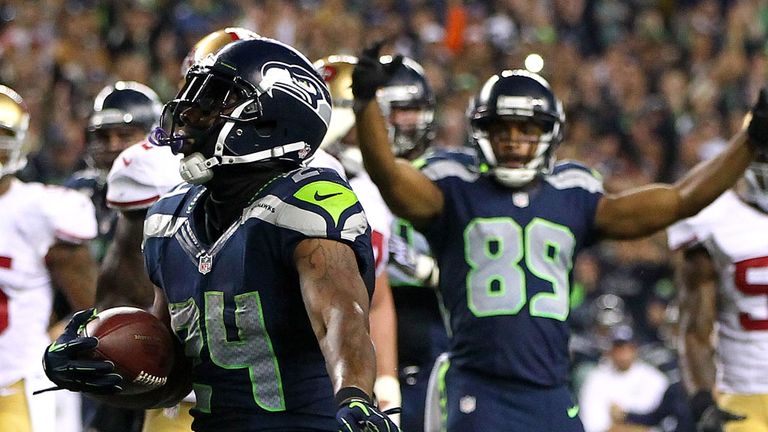 There's a record-equalling five 4-0 unbeaten teams left in the NFL this season, but who will make it to the 5-0 mark? And are all these teams legitimate Super Bowl contenders?
All five play in Week Five, and remarkably all five will have to win on the road if they are to keep their unbeaten records intact.
Seattle came from behind to beat the Texans, while the Broncos kept on rolling over teams for fun, and these two are battling it out for supremacy among every set of rankings you can find - and ours are no different.
The Saints ended Miami's unbeaten start to the season, we expected the Chiefs to be better this year but not this good, and the Patriots keep on finding ways to win despite their injury problems.
Here's how we see the five unbeaten teams left in the NFL.
1 - Seattle Seahawks (Next game @Colts)
A case of substance over style here. Denver have been having their way with everyone but the Seahawks showed huge spirit to come from 23-3 down against the Texans, in Houston, to win in overtime.
That is some result, but apart from their ferocious defence they have also put teams to the sword when they need to, including the Super Bowl runners-up, although they face another tough away day in Indianapolis next up.
With Marshawn Lynch's barnstorming running and their dynamic defence, there's hardly a weak point in Pete Carroll's outfit - maybe just a touch more from Russell Wilson can put them over the top.
2 - Denver Broncos (Next game @Cowboys)
You can't argue with an average of close to 45 points a game and average winning margin of 22 points per game! Denver are dominant in the AFC and right now you'd have to vote for these top two contesting the Super Bowl - although the season never quite works out like that.
Peyton Manning looks better than ever, the pass attack is mightily prolific and the defensive front is better than anyone at stop the run - the only weak point at present is the secondary.
Dallas will be a tough test next up, but you'd expect Manning to be able to pick them apart even away from home. Denver are on a fast-track to the play-offs, they'll just hope they can win a game this time.
3 - New Orleans Saints (Next game @Bears)
What a difference coach Sean Payton makes! With him back the Saints are their high-flying flashy old selves again, with Drew Brees dissecting defences and utilising the speed of Darren Sproles and the match-up nightmare that is Jimmy Graham.
The defence has also stood up, though, and much improved from the worst in the league effort last year, they are now keeping teams at bay and allowing the offence to do their thing.
That said, they have had three home games so far, and their next two on the road in Chicago and New England should tell us a lot more about the rejuvenation.
4 - New England Patriots (Next game @Bengals)
Middle of the road in most team statistics, but the Patriots have found ways to win, it was not pretty against the Bills and Jets first up but since then they have looked a bit better in offence while the defence has been pretty solid throughout.
Injuries have been piling up, Vince Wilfork is the latest to go down and since 2009 without him they rank last in rushing yards allowed per carry, so he is, literally, a big hole to fill in the defence.
The good news though is that Danny Amendola is on his way back and Rob Gronkowski is still to return. Rookie Kenbrell Thompkins has been growing in stature so there is definitely still more to come from this side. If the Pats and Saints both win that would set-up a tasty clash in week six.
5 - Kansas City Chiefs (Next game @Titans)
There's always one, and this year it's the Chiefs who have bounced back the best and have already doubled their win tally from last year under new coach Andy Reid and new quarterback Alex Smith. They had bad luck and injuries last year but this year they're on the right end of both.
Defence was good last year and with a potent offence this year it's even better - they've got the best pass rush in the NFL. Jamaal Charles is the superstar on offence but it really is the defensive unit that keeps this team going.
Wins over Dallas and at Philadelphia warrant particular praise, but it's still a bit too early to rank them higher - a tough trip to Tennessee will be a good test this week.