Broadening horizons?
The Super Bowl showcased the NFL to a worldwide audience, but how realistic is it for a Brit to harbour ambitions of playing in the league?
By Alex Williams, Twitter: @skysportsalexw. Last Updated: 06/02/13 6:05pm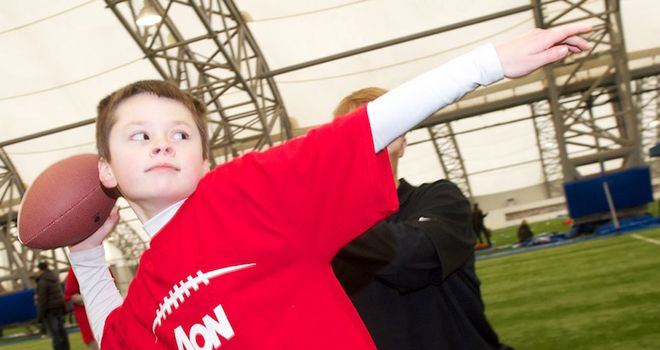 Can young British talent be nurtured in the NFL?
American Football Betting

American Football Betting

Bet with Sky Bet
If the average viewer was tasked with compiling a list of adjectives to describe Super Bowl XLVII, 'inspirational' would surely be one of the first to come to mind.
Although the Super Bowl is still very much North America's game - only around two per cent of the event's television audience originates from outside the continent - the growing global impact it is having cannot be denied. The logic follows that with inspiration comes increased participation.
But while the rosters of teams in the USA's three other major sports leagues - the NBA, NHL and MLB - are becoming more and more nationally diverse, the NFL remains a tough nut to crack for anyone outside the States.
The reason for the discrepancy is, seemingly, a straightforward one. Basketball is played to a highly-competitive, professional level in Europe and South America, ice hockey in the former Eastern Bloc and Scandinavia and baseball in the Caribbean and Far East.
Players are imported from these regions into the US on a regular basis, but with no fully-professional gridiron league situated outside the sport's continent of origin, a college football education in America is almost mandatory if one is to graduate to the NFL.
Watching and following the NFL has never been easier, though, so surely British and international youngsters will want to get there somehow?
Tony Allen, a former director of NFL international player development, attended an Aon football clinic aimed at children in London a day before the Super Bowl and was encouraged by what he saw.
"My background is working with the NFL in player development and it was more to do with identifying talent internationally," Allen told Sky Sports.
"We've had guys go into the NFL in the past but what you're seeing now is that there is a lot more going into the college ranks in the US and you are seeing more players make it into the NFL Draft.
Talent
"So without a doubt there will be an increase in (British and international) talent in those drafts in the future."
He added: "In the past we've had players make it through NFL Europe and that's no longer around.
"But now there are guys in things like this (the clinic) where you pick up a young guy with talent, you direct him to an amateur club, they develop their skills and interests and eventually, if they're really serious about the sport, the exit route is to the US and making it there."
NFL players from outside America are rare but not new. Indeed Morten Andersen, the highest-scoring player in the league's history, is from Denmark.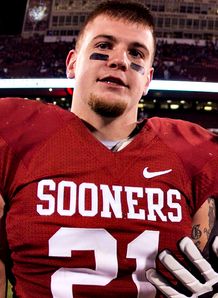 Tom Wort: Set for NFL Draft
A kicker here and there is one thing, regular contributors on offence and defence another. But if the number of international players in the NFL is to increase, this year could be seen as a turning point.
For the first time ever, two Brits are set to be selected in the same draft. Tom Wort, a linebacker from Sussex via the University of Oklahoma, will likely be a mid-late round pick while Menelik Watson, who was born and raised in Manchester, could go as high as the second.
Other parts of Europe have even more exciting prospects. Estonian workout warrior Margus Hunt has a chance to be selected in the first round and German defensive end Bjoern Werner is being projected as a top-five pick overall.
Watson and Wort were able to pick up the game relatively late but the key to increasing the British contingent in the NFL surely lies in being able to nuture American football skills from a young age.
"There are not (many foreign players in the NFL) but what there are in other countries other than the United States are great athletes," said former NFL quarterback Daunte Culpepper, who was also present at the clinic in London.
"You've got great athletes everywhere, all you've got to do is teach them the game. If they start young and learn it and grow up playing it then they can possibly be a pro by the time they're an adult."
Allen added: "We have all age groups here (at the clinic) and we are teaching kids the basic fundamentals of American football - catching, throwing, running with the ball.
Skills
"I was really surprised how many of them knew about the Super Bowl and they all seem to understand the sport, although I wouldn't say the rules. The skill level has really impressed me.
Famous international players currently in the NFL:
Gosder Cherilus (Haiti, Lions)
Tamba Hali (Liberia, Chiefs)
Israel Idonije (Nigeria, Bears)
Sebastian Janikowski (Poland, Raiders)
Zoltan Mesko (Romania, Patriots)
Lawrence Tynes (UK, NY Giants)
Osi Umenyiora (UK/Nigeria, NY Giants)
Sebastian Vollmer (Germany, Patriots)
Stephen Paea (New Zealand/Tonga, Bears)
"I just finished a six-week programme working in schools and I have seen so much talent here today. It's really surprising."
Culpepper's old team - the Minnesota Vikings - will play in one of two NFL regular season games to be held at Wembley next season. London has played host to one game per year since 2007 but that number has doubled for 2013.
With NFL commissioner Roger Goodell announcing that both contests, which see the Vikings taking on the Pittsburgh Steelers and the San Francisco 49ers facing the Jacksonville Jaguars, are already sold out, the UK's appetite for the NFL shows no sign of abating.
"The more NFL games are played in London, the more exposure it's going to get and I think it's better for the game of football," Culpepper said.
"The NFL has done a great job of trying to expose the fans here in London and all around the world to the game. I think the more exposure it gets, the more kids (will) see it because it's a very exciting game.
"There are great athletes here and all you have to do is get the great athletes to start playing American football and then maybe you will have some athletes from London or the UK come over and play in the NFL one day."
Leaving home comforts, friends and possibly family to move to a new country as a teenager is a hard apprenticeship, but for now it is by far the most effective route into the NFL.
And where there is inspiration, there is ambition. With a little luck, Watson and Wort will be the first of many.
Tony Allen and Daunte Culpepper were speaking on behalf of Aon, official sponsor of the NFL UK, who are promoting the sport by hosting a series of football clinics in the UK.