NFL: Alex Ferguson picks his best game of each of the 17 weeks of the season
Alex Ferguson selects the Wembley series and 14 more in the USA
By Alex Ferguson. Last Updated: 27/08/14 2:52pm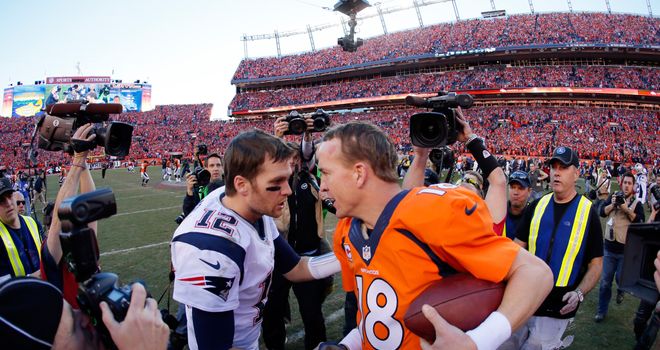 Week 9: will see Tom Brady and Peyton Manning meet again
American Football Betting

American Football Betting

Bet with Sky Bet
As someone who loves playing fantasy NFL (albeit not very well) and someone who loves the NFL (albeit not a great team at the moment), Sunday afternoons and nights are always our favourite times of the year - because the NFL's on.
Anyway, if you're a week-by-week addict like some of us, you'll want to know the best games for each week. Well, here's our resident US sports writer Alex Ferguson with his guide to the games you just can't miss out on. 
And yes, we know Week 1's got a few, but we're just going with just the one. If there's one we've missed out on, feel free to drop us a line via our feedback at the bottom of the page...
Week 1 - New Orleans Saints @ Atlanta Falcons (Sunday)

Yes, we know that we could have picked Seattle opening with Green Bay, San Francisco's trip to Dallas, Indy's trip to Denver, or Johnny Manziel's first game for Cleveland but we're going for Drew Brees' trip to Atlanta because both teams absolutely despise each other in this NFL southern rivalry. You are going to have two quality quarterbacks in Brees and Matt Ryan, two high-octane offenses, and a really, really loud crowd. I can't think of a better way to kick off the new season.
NFL LIVE ON SKY SPORTS
We have already got 10 live NFL games coming your way in the first two months of the season.
Week 2 - Philadelphia Eagles @ Indianapolis Colts (Monday)
An Eagles offense without DeSean Jackson but with a great spread offenses and an Indianapolis Colts team whose owner Jim Irsay had more off-the-field incidents this off-season than the playing staff? Yep, we'll take that. Plus, we get to find out if Philly's defense has improved since 2013.
Week 3 - Denver Broncos @ Seattle Seahawks (Sunday)
No reason, really. Just Peyton Manning playing against the team that destroyed his body and soul in last year's Super Bowl. He should prepare to be mocked by the loud Seattle faithful, who no doubt will still be basking in this year's success (you know, unless they go 0-2 to start the season). Also, new questions will arise in Denver's offense - especially with the absence of Eric Decker, who realised (as did his agent) that he really, really wanted to play for the Jets.
Week 4 - Miami Dolphins v Oakland Raiders (Wembley Stadium, Sunday)
For obvious reasons we can't wait to see two teams that were so important to people of my age, growing up Miami and Oakland. Of course, the Raiders were in LA, and Miami had Dan Marino, but it's still going to be quite an occasion for nostalgia.
Week 5 - Seattle Seahawks @ Washington Redskins (Monday)

A lot of people are tipping Alex Smith's return to San Fransisco as the 'Game To Watch', but Seattle's defense shaping up against RG3 and DeSean Jackson should be a heck of a lot of fun, too. Especially if Washington's 'D' is better and the offense can keep off the treatment table.
Week 6 - Detroit Lions @ Minnesota Vikings (Sunday)
Practice reports love Teddy Bridgewater at this time of writing and we loved him so much we can't understand why he wasn't taken as the NFL Draft's No.1 quarterback. Anyway, he's going to get his work cut-out against Ndamukong Suh, but if he can avoid getting hurt, he should have fun against a pretty weak Detroit defense. Having said that, Calvin Johnson could put 400 yards himself against Minnesota's secondary. Get your calculators out, boys! Elsewhere, Denver's trip to New York has Eric Decker in common, which could be interesting. You know, if Decker has a good QB by then...
Week 7 - San Francisco 49ers @ Denver Broncos (Sunday)
The last time we saw Peyton Manning against a good defense, he struggled. But right now, No.18 will be in his stride, putting up jaw-dropping numbers and keeping his fantasy owner extremely happy. Anyway, this week the Peyton Show's at home to a bruising 49ers defence, which is read to cause havoc. Also, how is Denver's D going to deal with Colin Kaepernick and company, too! This is one of the games of the season, folks!
Week 8 - Detroit vs Atlanta (Wembley Stadium)

This is London's chance to see two incredible quarterbacks in Matt Stafford and Matt Ryan, a future Hall Of Fame wide receiver in Calvin Johnson, one of the most controversial players in the league in Ndamukong Suh, and two not particularly great defences. This will be fun!
Week 9 - Denver Broncos @ New England Patriots
Peyton Manning v Tom Brady? Yes please. 'Nuff said. Oh, and if you like defensive wars, there's also Baltimore's trip to Pittsburgh on offer, too.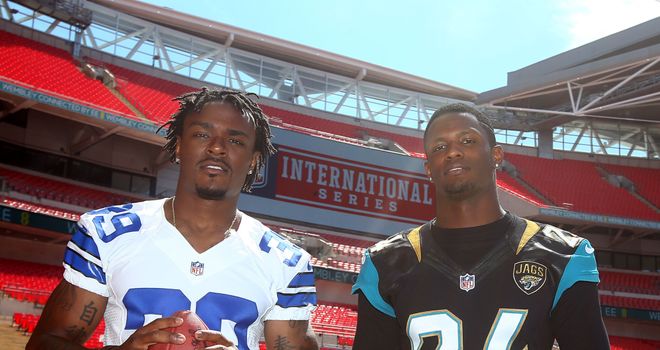 Week 10: Brandon Carr of Dallas Cowboys with Will Blackmon of Jacksonville Jaguars will be at Wembley
Week 10 - Dallas Cowboys v Jacksonville Jaguars (Wembley Stadium, Sunday)
London welcomes the Dallas Cowboys and all it has offered us in terms of passion, drama and past glories (Troy! Michael! Emmitt!). I can't wait to hear fans telling me how their past glories of being Cowboys fans have gone to hell in recent years, and for a Jacksonville fan to pipe up: "What's a past glory?" Seriously though, by now we'll know how good Blake Bortles is for the Jags.
Week 11 - New England Patriots @ Indianapolis Colts (Sunday)
If Andrew Luck has been awesome since he started for Indy, while Tom Brady has been God-like. There might be a chance of seeing Gisele in the crowd too. Also, this one could well be a play-off preview. Oh, and the Packers vs Eagles game should be fun, too - especially if you like offenses playing at full blast.
Week 12 - NY Jets @ Buffalo Bills (Sunday)
The Jets might still be in the AFC East contention by now, and the Bills might be in Wild Card contention, making this match-up a lot of fun in the freezing Buffalo winter. Glad we won't be there watching, folks!
Week 13 - Seattle Seahawks @ San Francisco 49ers (Thursday)
Happy Thanksgiving, America! Us Brits will be celebrating by eating ourselves out of house and home, watching Bears v Lions, Eagles v Cowboys on Sky Sports before lying in bed and watching the NFL equivalent of Liverpool v Man Utd on Thursday night, before trying to explain why we look so knackered on Friday morning.
Week 14 - Pittsburgh Steelers @ Cincinnati Bengals (Sunday)
A brutal AFC North match-up that could well be for the the division title. There is certainly no question that both sides really don't like each other, and as games go, it's one of the week's most intriguing. Both QBs (Ben Roethlisberger  for Pitt and Andy Dalton for Cincy) will have been under pressure by their respective fanbases to take them to The Promised Land, but when they get together on Week 14, who will crack or have cracked?
Week 15 - San Francisco 49ers @ Seattle Seahwaks (Sunday)
Remember what we said about Liverpool v Man Utd? Well, we get to see these two again. And again, on Sky Sports! By now, we still won't know who's won the NFC West, and this game could well see the winner crowned. We can't wait. It's like Christmas come early. Elsewhere Washington's trip to the New York Giants (or RG3 vs Eli Manning) could well see the NFC East decided, and Vikes at Lions game could be big in the NFC North. This is going to be a fun weekend.
Week 16 - Indianapolis Colts v Dallas Cowboys (Wembley Stadium, Sunday)
Andrew Luck visits JerryWorld for a showdown with the Cowboys. We wouldn't be surprised if both sides are still in the running for play-off contention, with Dallas probably needing the win more than Indy at this stage. After all, Dallas owner Jerry Jones would rather Cowboys Stadium packed for the play-offs rather than college sports games and the odd Super Bowl, right?
Week 17 - Jacksonville Jaguars @ Houston Texans (Sunday)
There are going to be a lot of division match-ups to note that will sort out play-off spots (Chicago at Minnesota, Cincy at Pittsburgh, Cowboys at Redskins), but this game may well sort out who's going to get the first NFL Draft pick of 2015.