NFL: Sky Sports look at how the Jacksonville Jaguars will improve next season
By Jesse Beller. Last Updated: 01/11/13 4:45pm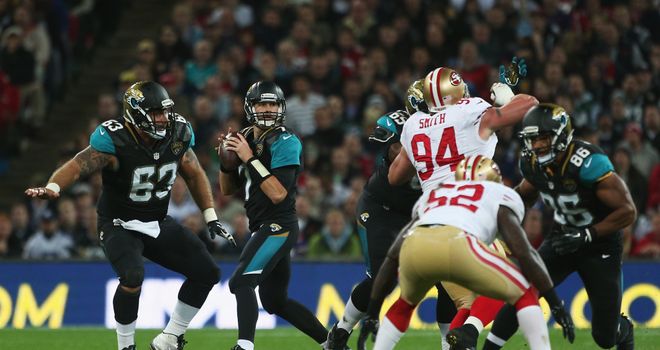 The Jaguars must add a quarterback if they hope to return to the playoffs
American Football Betting

American Football Betting

Bet with Sky Bet
Every so often I will be taking a look at one of sports worst franchises, how they got there and how they can return (or in some cases just get) to greatness.
The Path to Oblivion
The Jacksonville Jaguars are the worst team in the NFL. They are 0-8, and through eight weeks, the worst team ever tracked by DVOA to play in the NFL. They rank last in scoring offense (10.8ppg) and last in scoring defense (33ppg). Advanced stats, are not much kinder: they are last (-40.5%)[1]and second last (22.2%) respectively according to Football Outsiders.
In 2007 the Jaguars went 11-5, finished second in the AFC South and beat the Steelers in the Wild Card round before losing to the (at the time) 17-0 Patriots. Even in 2010 they went 8-8. How does a team become so bad so quickly?
The answer, put simply, is Gene Smith. Though he no longer works for the Jaguars - he was mercifully fired after last season - Smith was the architect for what will likely be the worst team in the NFL history.
Let's go back to 2007, after finishing 11-5, Smith (then the Executive Director of College and Pro Personnel) advised then GM Shack Harris who was convinced a asset gathering spree would springboard the team to the Super Bowl. From his perch on Harris' left shoulder, Smith helped execute trades that dealt two third-rounders and a fourth-rounder to the Ravens to move up 18 spots and grab defensive end Derrick Harvey, and followed that by trading up six spots in the second round to grab fellow defensive end Quentin Groves. The team also went out and guaranteed $23 million between corner Drayton Florence and receiver Jerry Porter on six year deals.
Harvey and Grove combined for 10.5 sacks over five seasons and both Florence and Porter lasted just a single season in Jacksonville. The rest of that Jaguars 2008 Draft? Thomas Williams (155th overall), Trae Williams (159), and Chauncey Washington (213) were all cut from the team within two years.
Harris was fired after the season.
But what about Smith? Well, after winning the NFL Oscar equivalent for Supporting Role in a Horror in 2008, he was promoted to General Manager. Picking up where he left off, Smith gave Torry Holt a three-year deal that guaranteed him $4 million in year one - Holt caught 51 passes and was released after one season. He followed the Holt signing with a four-year $25 million deal for Aaron Kampman, an extremely productive pass rusher with a torn ACL, who played all of 11 games before his knee issues returned.
In 2011, Smith jumped in early in free agency to give safety Dawan Landry and linebacker Paul Posluszny long term deals. Posluszny got a six-year, $42 million deal to play the defensive position easiest to replace. Both were above-average players, but they both played positions which did not warrant that kind of expenditure. But he wasn't finished, as Smith gave tight end Marcedes Lewis, who had an unsustainable ten touchdowns on 58 catches the previous year, a five-year, $35 million deal that guaranteed him almost $17 million. Lewis had zero touchdown catches the next season.
Smith also managed to give possession receiver Mike Thomas and Jeremy Mincey each $9 million guaranteed, and in a coup de grace, kicker Josh Scobee - of seven years of 77% success rate before one 23-25 year - a four-year, $14 million deal.
Finally, after 2011, Smith signed Super Bowl winning cornerback Aaron Ross to a three-year, $15.3 million deal, gave Laurent Robinson, who had gone from the waiver wire to a fluky 11 touchdown season in the superb Cowboys passing game, a five-year, $32.5 million contract that guaranteed him $14 million.
The amazing thing is, Smith was potentially even worse at drafting.
After that awful 2008 draft - one of the worst in history (this is a theme with this team) - Smith had his best, drafting above average-borderline stars Eugene Monroe in the first round, and Derek Cox in the third.[2]
In 2010, Smith made one of the more shocking first-round decisions in recent memory when he chose Cal defensive tackle Tyson Alualu with the 10th pick of the draft. Alualu was pretty much unanimously agreed upon as not worthy of that pick, and at best a late first rounder. Unsurprisingly, Alualu has not developed into the dominant defensive tackle his draft position suggested.[3]
Smith's biggest mistake was trading a second round pick (along with his first) to the Redskins in 2011 to move up six spots and take Blaine Gabbert who, despite being The Real American, has been an absolutely horrific NFL quarterback. The idea was right here - you need a quarterback to succeed in the NFL - but as the 2013 season can attest, Gabbert stretches the definition of an NFL QB pretty seriously.
Finally, in 2012, his last draft, Smith took Justin Blackmon fifth overall (with the added cost of the 101st pick) despite wide receivers, in general, not being worthy of top ten picks, before winning the "WHAT?" pick of the draft award by taking Cal punter Bryan Anger in the third round.
Smith is almost comically bad at evaluating NFL talent and value, so it should come as no surprise that the team is where it is right now.
In 2011 Shahid Kahn purchased the Jaguars, and after firing Smith he brought in David Caldwell from the Falcons as GM and added Seahawks defensive coordinator Gus Bradley as head coach. Kahn has preached a take it slow rebuild approach, so at least the foundation is there to build a great team.
The NFL has a salary cap and a draft, besides the Browns (who are getting good now), it is almost impossible to remain bad for that long. Between management and NFL rules, the Jaguars are in a perfect position to return to prominence.
What Now?
Firstly, the Jaguars should have traded former star Maurice Jones-Drew. He is old, a free-agent at year's end, and completely unnecessary for this Jaguars team. The Jags are lacking in almost every part of their roster: they need as many draft picks as possible, perhaps letting him go would have been as 'giving up' but I doubt many Jaguars fans think this is a Super Bowl contender.
The Jaguars should also consider trading Blackmon or second receiver Cecil Shorts, as long as they could get good returns. Blackmon is never going to be Calvin Johnson or AJ Green, but he is a good receiver and is worth at least a second round pick. Shorts should go for a third. Blackmon and Shorts are cheap, quality players, so there is no need to trade if a good offer is not available.
Paul Posluszny, on the other hand, is not on a cheap contract. As I covered earlier, he is wildly overpaid and you could replace most of his production for a fraction of the price. Finding a trade partner would be difficult, but if you could get a third or fourth round pick in return it would be a coup.
At the end of the day, the Jaguars' future success will be determined by how well they draft over three days in Radio City Music Hall. With their current shocking play, they are almost assured of the first overall pick (though Tampa Bay is giving them a run for their money), and with it, their choice of elite college quarterback (Teddy Bridgewater, Marcus Mariota, Tajh Boyd, AJ McCarron, Johnny Manziel). They must get that pick right, as there is no position more important than quarterback in the NFL. But it will not stop there, as David Carr will tell you, you need an offensive line as well. 2012 second overall pick Luke Joeckel will likely help, and ideally will man the new QB1's blindside for a decade, but the rest of the line is porous. The Jaguars have so many holes that they will likely need multiple years to build a winner.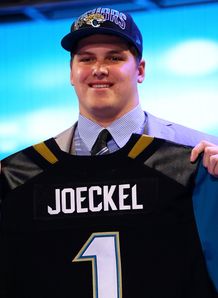 The Jaguars need Luke Joeckel to anchor their offensive line for the next decade
The Jags need to build from the inside out - quarterback, offensive and defensive line. They can use free agency to supplement weaknesses, but that is a scary idea for a team that has been so comically inept in that department for years. Success rate for draft picks is not great, making it imperative the Jags acquire as many picks as possible (trade down, trade players, just for the love of god do not trade up when you have such an awful team).
Are the Jaguars the 2012 Chiefs or 2010 Niners? No. Those teams were loaded with talent and under-performing for easily fixable reasons (coaching and quarterback play). The Jaguars have good coaching, but close to no talent and absolutely nothing in the quarterback department. This team is years from contention, (perhaps not being good until the team no longer calls Jacksonville home) but in the NFL, there is always hope.
Related
Most Popular
Features