Saints to upset Giants
Last Updated: 07/12/12 5:34pm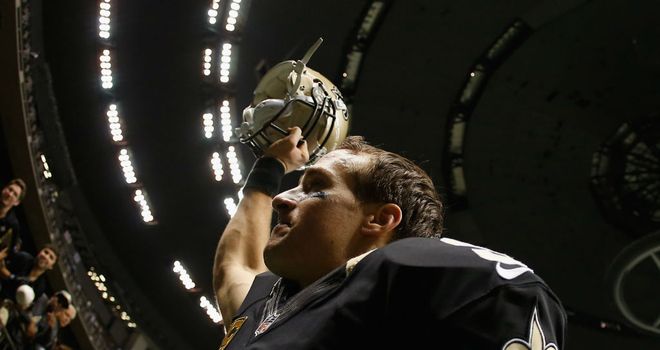 Drew Brees: Saints quarterback looking to respond against the Giants
American Football Betting

American Football Betting

Bet with Sky Bet
Sky Sports' Kevin Cadle believes an upset is on the cards on Sunday when the NFC East-leading New York Giants entertain the New Orleans Saints.
The Super Bowl-champion Giants have not been at their fluent best this season, but have managed to win when they need to, although they lost to the Washington Redskins last time out.
New Orleans Saints (5-7) @ New York Giants (7-5), live on Sky Sports 2 HD, Sunday 9.15pm
That victory for the Redskins has allowed Robert Griffin III and co to close the gap in the NFC East and Cadle believes how the Giants handle the pressure will dictate who makes it to the post-season.
The Saints have one of the most explosive offences in the league and Cadle is tipping quarterback Drew Brees to enjoy his day out in the Big Apple if he is given too much time by the Giants' defence to operate.
"The Saints are one of those teams at home, on their day they can explode, but last week was very really un-Drew Brees like. Just mistake after mistake. Mistakes that he was making," he told Sky Sports.
"With last week's game on his mind he is going to respond. He'll be looking to pick it up and come play in the cold of New York/New Jersey, whatever you want to call it. That's going to be a little bit different for them.
"The Giants have been so up and down. The Giants, they keep living on 'we'll get it right when the time comes, we've done it before'. Like it's a light bulb you turn on and off. They were fortunate on those two previous occasions, but it's not something you can depend on.
"With last week's game on his mind he is going to respond. He'll be looking to pick it up and come play."
Cadle on Drew Brees Quotes of the week
"The Giants' defensive line is far superior than the New Orleans Saints' offensive line. That's a big advantage right there. If the Giants go and do what they are supposed to do. They haven't really displayed that this season.
"The Giants definitely have the advantage on that so if the Giants can maximise that then they've got a shot, but if they give Drew Brees too much time with the complement of receivers he has compared to the Giants, then defensively it could be a long day for New York."
The Saints retain an outside chance of making the play-offs providing they win all four of their remaining regular-season games, however, Cadle believes the task will be too great.
"The Saints are going to fight to the death, but they aren't going to make the play-offs. It's good that they don't make the play-offs. You need to let people know there's a reason why you have a guy called the coach on your team.
"They are going to fight, but it's going to be a long shot at 9-7 to get into the play-offs. Maybe a 9-7 team might make it from the NFC, but the road to get to 9-7 is very difficult road."
Kev's call:
"The Giants can handle the pressure, but will they handle the pressure? They're 2-3 in their last five games. They just have not been performing. They are depending on something they have been depending on in the past, but will it work again? I don't know. They've got a little bit of work to do. I like New Orleans in this one, I think they can come in and pull off the upset against the Giants."