Simon Veness
View from America
NFL Power Rankings Preview: Simon Veness ranks the gridiron teams
Last Updated: 02/09/14 12:24pm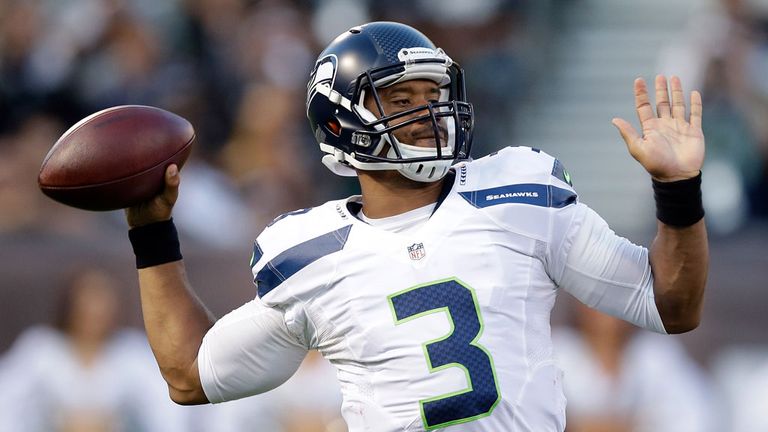 They're back! Sky Sports' NFL Power Rankings, rating every team in a 1-32 order, but with a unique twist as we group them into four soccer-style 'divisions' from Champions League (the best) to Conference level (the less-than-best), as ranked by our US columnist Simon Veness.
Stand by for more fun, Seattle fans; get ready to rebound, Baltimore followers; prepare to be pleasantly surprised, those who cheer for St Louis; and start digging an early grave for those Super Bowl hopes, fans of Oakland and the Giants.
Yes, it's time to make a few educated(ish) guesses about who will be our top dogs this year, and those who are heading straight for the pigskin basement. So let's get to it…
Champions League – True Super Bowl Material
1. Seattle – Be afraid NFC West, be very afraid. Yes, the Seahawks are back and they look just as irresistible on defence as they did when we last saw them returning from the cleaners with Peyton Manning's jersey. The really bad news for everyone else is that the offence under Russell Wilson looks even BETTER.
2. Green Bay – The best quarterback in the league passed for just 267 yards in the pre-season and that's just how the Packers like it. He still posted a 116.6 Quarterback Rating but the most important figure is 100, as in per cent healthy. Aaron Rodgers is all revved up and ready to go.
3. New England – Picking the Patriots to be good each season is like saying the sun will come up. It's pretty much a given. But this Bill Belichick creation has significantly more teeth on defence and a versatility at running back that could well drive defensive coordinators crazy before the season is finished.
4. Denver – The pinball points-scoring machine that is the Broncos offence is back, and they're mad. Mad that they still haven't got most of their uniforms back from the cleaners and mad that their defence is still taken for granted. But one curious stat from the pre-season – no-one gave up fewer points than Denver.
5. New Orleans – It's Year Two of the reign of defensive coordinator Rob Ryan and the Saints shouldn't need to score 30 points every week to be competitive. The arrival of ex-Buffalo safety Jairus Byrd will also ensure this defence is ready to take flight in support of Drew Brees and Co.
6. Indianapolis – Andrew Luck didn't quite put it in these terms, but having a healthy Reggie Wayne and Dwayne Allen to throw to again is akin to getting two additional first-round picks. Only the return of veteran receiver Wayne and potential-laden tight end Allen is actually better than that in real terms.
7. Baltimore – Joe Flacco took this team to a title in 2012 and earned a nice little $120.6million contract as a result. Last year, that looked like pretty bad business, but now he has a new friend called Steve Smith, Dennis Pitta is fit again and Owen Daniels gives him the kind of two-tight-end options that Tom Brady has destroyed defences with in recent years.
8. Philadelphia – Getreadyforevenmoreofthefast-pacedEaglesattackwesawunderyearonewithChipKelly. Got that?
Premier League – Those Most Likely For Promotion
9. Atlanta – Just about everything unravelled on Mike Smith and his men in 2013 and, once things start going south in a 16-game season, it's hard to halt that kind of momentum. But this is still a team loaded with talent and, with a healthy set of offensive weapons again, Matt Ryan can make these birds fly pretty high.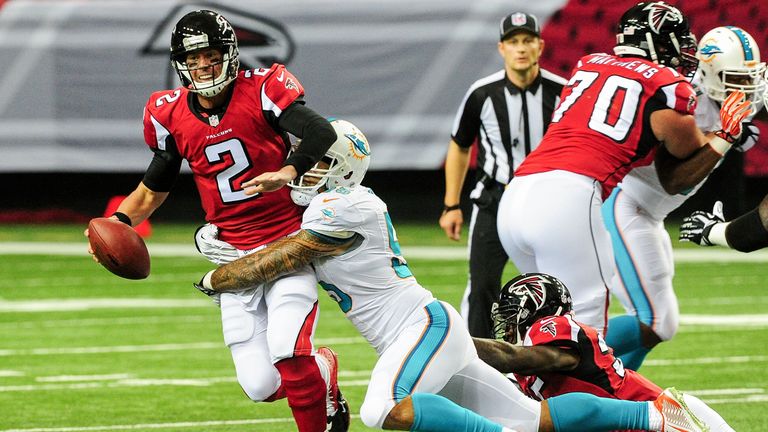 10. Chicago – Only one team gave up more points in 2013, and that was woeful Minnesota, but the Bears also boast an offence that can score in a hurry and they figure to be better in 2014 after a full year under Marc Trestman's creative scheming. The defence simply HAS to improve, and the arrival of Minnesota's Jared Allen will definitely help.
11. St Louis – The loss to injury of quarterback Sam Bradford is a big setback for the Rams, but not the hammer blow it might have been without Zac Stacy in the backfield. The second year running back is poised for a huge year, but not as big as a defensive unit that might be second only to Seattle in dynamic play-making.
12. Tampa Bay – If ever there was a team primed for an offensive explosion, it is these Buccaneers. With new head coach Lovie Smith and veteran quarterback Josh McCown who showed he knew how to get things done with a pair of towering wideouts last year, the recipe is there for some Chicago-style points-scoring in Florida.
13. San Francisco – THIS low? Yes, after losing the heart of that fearsome defence for at least half the season (and disciplinary action looming over Ray McDonald), the 49ers may be a shadow of last year's team. Colin Kaepernick looked out of sync for much of the pres-season and will need to become the team leader, fast.
14. Miami – Ryan Tannehill was knocked around like a rag doll at times last season behind an offensive line that was truly offensive. So the Dolphins blew it all up and invested heavily in new talent, notably ex-Chiefs left tackle Branden Albert for $47million. If Tannehill stays upright and the defence continues to blossom, the Patriots might not have things all their own way.
15. Cincinnati – Like division rival Flacco, Andy Dalton has a big-money contract to live up to these days and there's no longer any middle ground for the quarterback – it's a play-off run or bust. Fortunately, the Bengals also have one of the sharpest defensive lines in the business and a savvy secondary, and they will have Dalton's back.
16. San Diego – Seven other wideouts were picked before Keenan Allen in the 2013 draft, but none performed like first-round talent so much as the University of California product. It's probably the only reason Tom Brady envies Philip Rivers – he got Aaron Dobson instead of Allen.
The Championship – Teams With a Lot Of Work To Do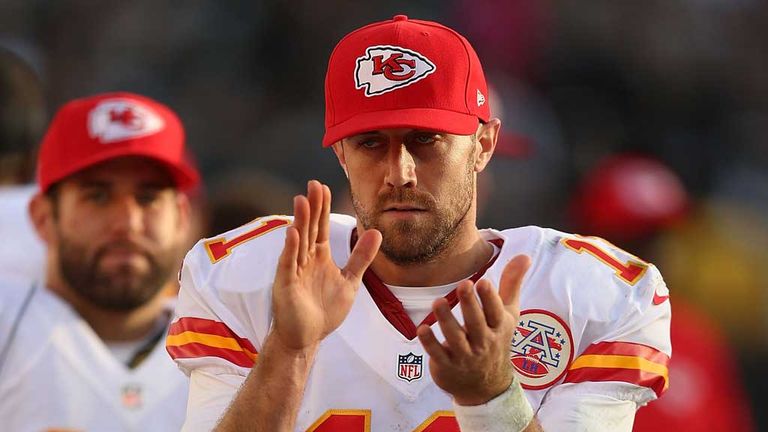 17. Kansas City – Alex Smith looked every inch the poised, calm passer for much of 2013. So the Chiefs allowed much of his protection to vanish, including key men Albert and guard Geoff Schwartz. What Smith will now get is anyone's guess on the pre-season evidence – and I'm guessing it won't be good enough.
18. New York Jets – It's not many teams who have the back-up quarterback earning more than the starter, but that's the case with Michael Vick and Geno Smith. Fortunately for the Jets, Smith has looked increasingly like starter material this pre-season and that might just be enough to paper over the defensive secondary cracks.
19. Carolina – Last year, the only Panthers wideout in the top 50 was Steve Smith, who is now in Baltimore. So the team was obviously addressing that in the draft and free agency, right? Right? Well, at least they still have an impressive defence.
20. Detroit – Will the real Matt Stafford please stand up? Last season, the Lions quarterback had five games of three or more touchdown passes but also five of two or more interceptions. Some of his pre-season work looked distinctly ordinary and this team won't go far with that kind of production.
21. Washington – The Battle of Wounded Knee, aka the 2012 play-off loss to Seattle, is still the main talking point in the capital. Did Mike Shanahan destroy the team's franchise quarterback in allowing Robert Griffin III to play? On all recent evidence, the exciting player of the 2012 regular season is nowhere to be seen.
22. Tennessee – One of the great Fantasy Football stats of 2013 was that Titans wide receiver Kendall Wright caught an amazing 94 passes, good for seventh-best in the league. But only TWO of those grabs resulted in touchdowns, good for joint 113th. If the latter stat is the freak one, Tennessee could have a legitimate passing attack.
23. Pittsburgh – Admittedly this is only a small sample, but the Steelers offence looked truly, horribly short of anything resembling coherence in pre-season against Philadelphia. And the defence wasn't much better. Pittsburgh fans have to hope they have been keeping it all under wraps.
24. Arizona – One of last year's premier defences has endured a miserable time since it last played a regular season game. Standout linebacker Karlos Dansby is now in Cleveland, defensive end Darnell Dockett is in rehab after season-ending knee surgery and Daryl Washington is in a cloud of substance-abuse suspension. Carson Palmer has it all to do on offence.
The Conference – Those in Rebuilding Mode
25. Houston – No-one with that much defensive talent should ever have lost 14 games in 2013, and they are set for a big rebound this time out. But, with so many question-marks on offence, how many games can they win 6-3?
26. New York Giants – There is cagey, there is keeping-it-all-up-your-sleeve crafty and then there is the confusion that is the Giants' new-look offence under Ben McAdoo. It's either one heck of a smokescreen or this one's going down with all hands.
27. Dallas – There should be plenty of competition for last place in the NFC East as the Cowboys' woeful 'D' from 2013 actually got worse in the off-season, notably with the injury loss of middle linebacker Sean Lee. Tony Romo, fresh from his back surgery, and Dez Bryant are going to have to work true miracles to get Jerry Jones in the play-offs for the first time in five years.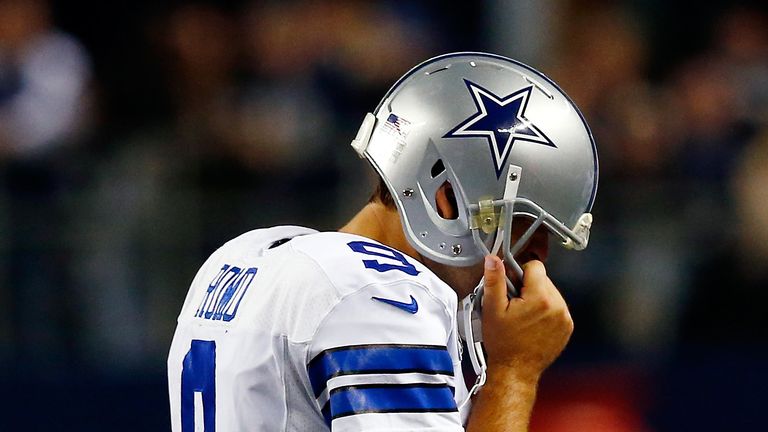 28. Buffalo – The Bills' first-round pick of EJ Manuel at No.16 in last year's draft is looking increasingly like mulligan territory – they would love to have that one back. Considering they could have had Mike Glennon at 73 or Matt Barkley at 98, they WAY over-reached for their currently floundering QB.
29. Minnesota – OK, so it's only Fantasy Football talk, but many pundits are expecting a huge year out of second-year wideout Cordarrelle Patterson. But it will still be Matt Cassel throwing the ball, and that hasn't been any great recipe for success to date.
30. Jacksonville – 'London's team' are still only half-way through a rebuilding phase that insists Chad Henne gives them a better chance of winning at the moment than first-round pick Blake Bortles. They may be better than last year's 0-8 start, but that's not saying a lot.
31. Cleveland – With virtually no-one to throw the ball to, it doesn't matter if it is Brian Hoyer, Johnny Football or Johnny Be Good at quarterback for the Browns this season. And a good defence will keep you afloat for only so long.
32. Oakland – When you have to change your starting quarterback on the verge of the big kick-off because the pre-season became almost an embarrassment, you know you're starting off on the wrong foot. With that kind of second-guessing, a third-rate season can't be far away.
Watch Green Bay Packers @ Seattle Seahawks from 1am on Friday morning, Sky Sports 1.